Facebook Advertising Terms You Need to Know
While most of us get confused over time with the terminologies you need to know to understand Facebook ads. Whether you're just starting out with Facebook advertising or have been running campaigns for a while, it can be overwhelming and confusing to navigate the different terms associated with the platform I just wanted to compile a list of the common, and the most important Facebook advertising words every Facebook Ads Beginner needs to know, as simple as I can.
Pro Tip: You can always find the definitions of these words inside the ads manager just by hovering over the particular keyword inside your ads manager.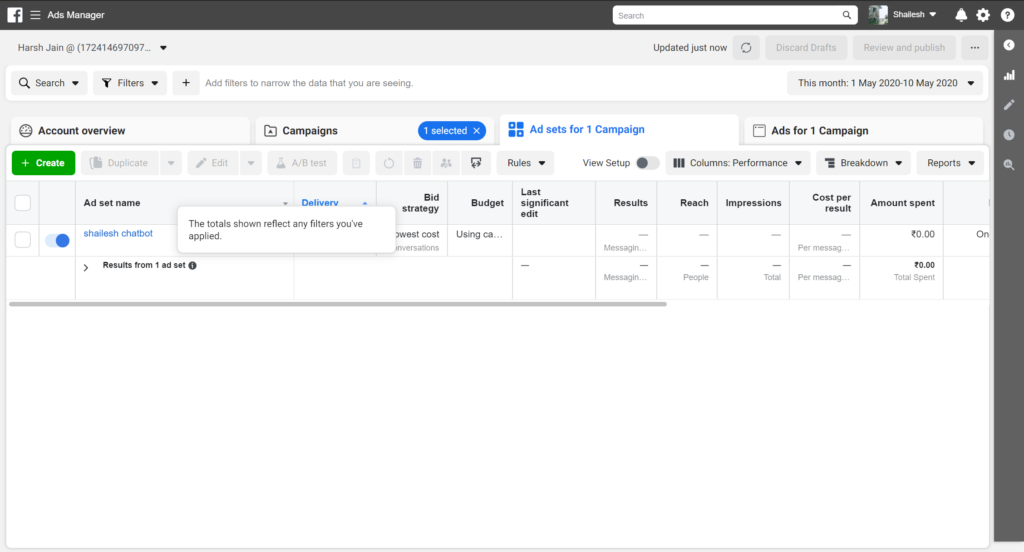 1.Ad The creative you use to create an ad.
2.Ad Set: Ad sets contain one or more ads. You'll define your targeting, budget, schedule, bidding, and placement at the ad set level. its mainly used for A/b testing.
3.Campaign: A campaign contains one or more ad sets and ads. You'll choose one advertising objective for each of your campaigns.
4. Reach; The number of people(unique) who have seen your ad.
5. Impressions: The number of times your ad has been shown to your audience.
6. Frequency: Simply put, it is the Total no of Impressions/Reach. For eg, let's say your ad has reached a 1000 people on Facebook and there are a total of 1200 Impressions, your frequency is 1200/1000 = 1.2
This means an average user has seen your ad at least 1.2 times on Facebook.
7. Cost per result: The average cost per result from your ads(Leads, Conversions, App installs, Page Likes etc).
8. Budget: The amount you spend on ads. You can set budgets on a daily/lifetime basis.
9. Cost Per Impressions(CPM): The average cost per 1000 impressions. Lower the CPM, higher the performance of your ads.
10. Link Clicks: The number of clicks on links you've used on the ad towards the desired result. In simple terms, it's the number of clicks you have got on your ads that took the user to your landing page or lead form etc
11. Click-Through Rate(Link click-through): Commonly referred to as CTR, this is one of the most important metrics you need to look at to determine your ad performance. It's the percentage of the number of times your ad was shown(Impressions) by the number of links clicks you have received. For eg: Let's say your ad has reached a 1000 people and 20 people have clicked on the links on your ad, your CTR is 2%. For an average ad performance, your CTR has to be at least above 1%
12. Cost Per Link Click(CPC): Basically, the number of link clicks divided by the budget spent. Lesser the Cost Per Impressions → Higher Click-Through Rate → Low-Cost Per Link Clicks.
13. Website Purchases: Purchases happening on your landing pages(outside of Facebook).
14. Landing Page Views: The number of times a person successfully landed on your web page after clicking on the ad. You can track both unique and total no of views.
15. Add To Cart(ATC): The number of Add to Cart events on your Product page that happened through someone clicking on your Facebook ad and visiting the page.
16. Checkouts Initiated(IC): The number of Initiate Checkout events on your Product Page that happened through someone clicking on your Facebook ad and visiting the page.
17. Adds of Payment Info: The number of Add Payment Info events on your Product Payment Page that happened through someone clicking on your Facebook ad and visiting the page.
18. Outbound Clicks: Outbound clicks provide a close measure of the amount of traffic your ads send to your website or app. The difference between outbound clicks and link clicks is that outbound clicks give you a closer approximation of the number of people who visited your web page from ads.
19. Return On Ad Spend(ROAS): Probably the most flaunted and discussed metric, ROAS is a measure of the Returns you have made with Product Sales through Facebook ads. For eg, you have spent a budget of INR 10,000 on ads and made INR 20,000 through Website purchases, your ROAS is 2. While people are being successful in getting even close to 20x ROAS or more, anything above 2 is pretty decent provided your product has enough profit margins.
20.Facebook Pixel: A piece of code for your website that enables you to measure, optimize, and build audiences for your ad campaigns
Understanding these metrics will help you determine the performances of your ads and take action on what to do next with them. To make the most out of your Facebook advertising, create weekly reports of your campaigns with the above metrics and track the performance of your ads for the best result.
See you then! 🙂
To Your Success,
Shailesh